If a Check , Make Payment to "DJ's 4 U"
Professional stilt walker, dancer, and performer! "We bring these shows to life!"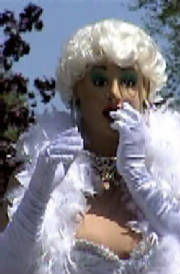 Women are meant to be loved, not to be understood.
"If you dress shabbily, they remember the dress; If you dress impeccably, they remember the woman."

"Why are women... so much more interesting to men than men are to women?"
All a girl really wants is for one guy to prove to her that they are not all the same.

Good girls are just bad girls that haven't been caught.
Marilyn Monroe was as witty and intelligent as she was beautiful. She lived a life that could be described as both the American dream and the American nightmare. Marilyn Monroe was a slave to her beauty; just as it helped her solidify her place in Hollywood, her beauty hindered her in ways she was clearly aware of.
9FT. MARILYN MONROE! - ON STILTS - (GREAT SHOW!)
STAND BACK 10 FEET, AND YOU WILL SEE EINSTEIN BECOME MARILYN MONROE!