There is a place you can touch a woman that will drive her crazy. Her heart.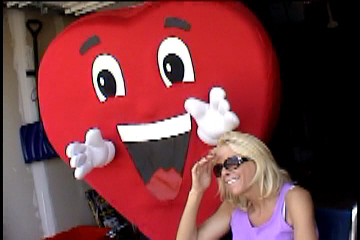 "The best and most beautiful things in the world cannot be seen or even touched. They must be felt with the heart"

"Love is an irresistible desire to be irresistibly desired."
For it was not into my ear you whispered, but into my heart. It was not my lips you kissed, but my soul.
"Once upon a time there was a boy who loved a girl, and her laughter was a question he wanted to spend his whole life answering."
Love is like the wind, you can't see it, but you can feel it.
"Love has nothing to do with what you are expecting to get - only with what you are expecting to give - which is everything"
"Finding someone you love and who loves you back is a wonderful, wonderful feeling. But finding a true soul mate is an even better feeling. A soul mate is someone who understands you like no other, loves you like no other, will be there for you forever, no matter what. They say that nothing lasts forever, but I am a firm believer in the fact that for some, love lives on even after we're gone."
Follow your heart, it knows things your mind cannot explain!
Nobody has ever measured, how much the heart can hold!
"Romance is the glamour which turns the dust of everyday life into a golden haze. "

A friend is someone who knows all about you and still loves you.
Love is patient, love is kind. It does not envy, it does not boast, it is not proud. It is not rude, it is not self-seeking, it is not easily angered, it keeps no record of wrongs. Love does not delight in evil but rejoices with the truth. It always protects, always trusts, always hopes, always perseveres.

Beauty is in the heart of the beholder!
Where there is love there is life.
"Love is . . . Being happy for the other person when they are happy, Being sad for the person when they are sad, Being together in good times, And being together in bad times.
LOVE IS THE SOURCE OF STRENGTH.
Love is . . . Being honest with yourself at all times, Being honest with the other person at all times, Telling, listening, respecting the truth, And never pretending.
LOVE IS THE SOURCE OF REALITY.
Love is . . . An understanding so complete that you feel as if you are a part of the other person, Accepting the other person just the way they are, And not trying to change them to be something else.
LOVE IS THE SOURCE OF UNITY.
Love is . . . The freedom to pursue your own desires while sharing your experiences with the other person, The growth of one individual alongside of and together with the growth of another individual.
LOVE IS THE SOURCE OF SUCCESS.
Love is . . . The excitement of planning things together, The excitement of doing things together.
LOVE IS THE SOURCE OF THE FUTURE.
Love is . . . The fury of the storm, The calm in the rainbow.
LOVE IS THE SOURCE OF PASSION.
Love is . . . Giving and taking in a daily situation, Being patient with each other's needs and desires.
LOVE IS THE SOURCE OF SHARING.
Love is . . . Knowing that the other person will always be with you regardless of what happens, Missing the other person when they are away but remaining near in heart at all times.
LOVE IS THE SOURCE OF SECURITY.
LOVE IS . . . THE SOURCE OF LIFE!"